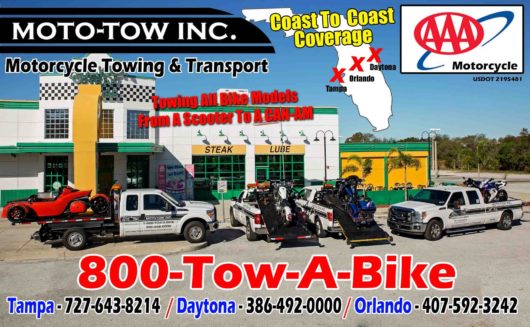 Kirk Higgins Moto-Tow Inc.
I just wanted to give some great props to Kirk Higgins and his company Moto-Tow, Inc. I had the occasion to move a couple of bikes, not an emergency breakdown, but the bikes needed to be moved on a very definite schedule and time. I called Kirk and arranged the time for pickup. The location was on a tricky frontage road on US 19 and usually everyone gets lost. Not Kirk's guy, he was on time and loaded both bikes without a scratch before even the paperwork was done! He then had the bikes moved to my location and again unloaded each quick and with great courtesy.
Now the interesting part begins. I then asked how much for this great work. The guy looks at me and says, "Nothing". I say "Nothing?" I am a little confused, but then he says "call Kirk" I do call him and had a most interesting conversation. Kirk tells me that when he first stated in Business as Moto-Tow we, that is me and guys I hung around with, were the first to talk to him and then talk about him in a good way to others. He said we helped greatly in his success and there was no charge for the tow. I was stunned and gave the driver a nice tip and a cigar for him and Kirk, (Hey! I saved a bundle already) and walked back into the garage.
This whole situation made me think, how many times are favors given out to people, and you expect nothing in return. You give because you like the person or maybe it easier to go ahead and say yes. What is interesting about this situation is that I started giving this favor several years ago. I gave only my honest opinion and good words, and a recommendation for Kirk and his business. Kirk remembered this and when it came time he could do a good turn for me. he did. This tells a lot about an individual. Kirk not only remembers who helped him, but returns a favor even when it is given even without a string. We used to call this "honorable" and being a "good guy". Honor and being a "good guy" are terms we don't hear that much these days, Kirk Higgins fits these words and shows by his deeds he a a good guy and honorable one too.
So if you are looking to have your bikes moved, like me, or towed in dead on the road…there is only one guy to call for honorable service from a good guy.
Kirk Higgins from Moto-Tow 727-643-8214 put this in your phone, you never know when you will need it.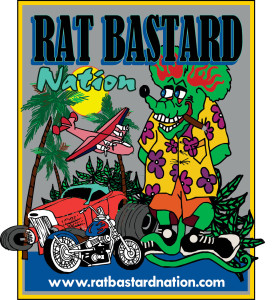 Is Kirk Higgins a RAT BASTARD… Yes, in every sense of the word!